The Primary Difference in Web Development I Bring to the Table: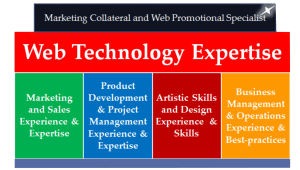 My value-add services include best practices, support for business processes, and extensive knowledge of marketing management, operations, project management, business management, and sales that other web designers simply don't have. The overwhelming majority of my competitors don't have the critical background and experience in business development to construct web-based cost-effective business assets. This is the significant difference in web development services I bring to the table.
Most designers are stuck on technology and/or aesthetics and need guidance during the website build process to implement websites that achieve real business results. Hence, some of my clients have actually hired me as project managers to manage the design and construction of their websites or to rework their website, because I have the skills and experience in Marketing Management, Project Management and On-site Search Engine Optimization, SEO, experience with keyword analysis and placement, content creation, as well as, off-site SEO.
Purpose of Your New Website:
You need more than a great-looking website. Your website should be custom-designed to deliver a total comprehensive solution. A solution-focused on generating incremental revenue for you by targeting your selective markets with a business experience to invoke action by the website visitors.
My website offerings are planned, designed, and developed primarily to "get-you-customers". I will properly design and implement your new website to improve your marketing reach and help you develop new sources of revenue. My combined 35 years plus of experience and
professional know-how is centered on using skills in the key areas of Information Technology, Marketing Management, and Sales. I use my diverse skills and experience to create personalized websites to align with your brand image to satisfy your customer's need for investigative information, so they can make a buying decision.
Your website should aid in emphatically improving your business by changing the usual sales situation. Of all your business assets, your website should be your number one asset to deliver the best return on investment. Your new website should be a practical solution to fit your business needs and the most effective channel to reach your customers.
Successful Marketing:
Many designers produce wonderful websites that really look good with content about the business. Many fail to deliver the right message
and misses the mark of generating the potential sales opportunities you should get.
Expensive websites may be a work-of-art and may even win awards; but, if they fall short of achieving expected business results then most likely they're delivering the wrong messages at a very high cost. Your website is never solely about esthetics or design, but incorporating a balance of compelling content with its optimal relationship to the design, form, and text placement to motivate customers to perform a call to action. Your website must answer the fundamental question, "Why should customers buy from you, instead of your competitor?" .
My Website Solution
My solutions are integrated business applications that are implemented to achieve your business objectives and answer the fundamental
question. My websites services are simple, practical, customer-focused, managed to your requirements, personalized to your brand image, and are specifically created to achieve your goals in a cost-effective manner. Whether you hire us to build your website or hire me to manage its design and construction, my goal is simple, to implement business assets that will continually improve your sales situation.