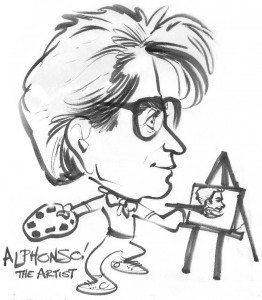 As the founder of  Creative Web Actions LLC, my passion for Art started at an early age and is the reason why I look at Designed Websites as an artistic endeavor to create a  Marketing Assets to Improve Businesses. The following provides a background perspective.
I began my artistic journey at the very young age of 13 when I, fortunately, met a neighbor who became my mentor, Josef Foshko, a professional fine-art artist.
At the time, we both lived in a small rural and sleepy community about 50 miles north of New York City. Josef needed an assistant for his art studio and that in exchange for my help, he would give me art lessons. We worked together for almost five years. It was a wonderful partnership that I still remember fondly.
Josef was a quick-minded intellectual artist who was fluent in several languages. As he was too old to be a "beatnik", he preferred to think of himself as a "Bohemian". He knew about the "Beat Generation" and embraced their willingness to look at things differently and their right to question.
During WWII, he was a political cartoonist for a Yiddish newspaper. Josef was an expressionist and painted in bright, vivid colors. He supported himself solely through his art and primarily oil paintings. He loved classical literature, politics, cooking (he made a terrific fish chowder), boxing, wrestling and painting with oils, watercolors and a variety of other mediums for his works of art.
I naïvely thought that taking art lessons would be a lot of fun. Was I in for a surprise! This was a solemn undertaking requiring my total commitment. I read the classics and studied the master artists because, in Josef's words, "it would be impossible to become an artist without understanding the culture and the Arts." Josef liked to have discussions about the classics including Dumas, Cervantes, Dickens, and Dante. He would quiz me frequently. He loved showing me a painting and asking me to identify the artist. He would then discuss the style, school of art, period and subject addressed in the picture. Josef was a historian of Western Europe and Fine Art with many interesting personal stories of his journeys on foot from Moscow to Paris.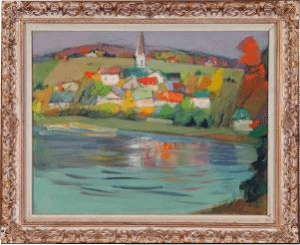 We shared an apprentice/master relationship. I was the young budding apprentice eager to learn, and Josef was the elder master willing to share his knowledge. We were good friends, and he was a great teacher. I spent countless laborious hours cleaning his brushes and palettes, stretching and preparing raw canvases, sweeping the studio floor and removing paint spots. Let me tell you; there was a strict detailed procedure to clean the brushes that consisted of several steps. Also, I was responsible for packaging the pictures for shipping, photographing paintings in the sunlight (always in the sunlight), working with gold-leaf and modifying and repairing frames. I learned the trade in the same way that Josef had in the early 1900s in Europe.
I accompanied Josef to many of his one-man shows held at New York City galleries. We traveled in Josef's old beat-up station wagon loaded with paintings. I helped prepare for these events by packaging the paintings, loading and unloading them from the car and finally, hanging the framed pictures in the galleries. The trip from Putnam County to the city took about an hour plus on the parkway. During the ride to the city, we had the time to discuss his one-man show, the cast of characters involved, planning the setup, related issues to watch out for and stories of the master artists dealing with clients. At the gallery, the most complex act was to determine where to hang each painting that was preceded by lively discussions and arguments between the gallery owner, staff and Josef. I listen intensely. For me, the actual act of hanging the artwork was simple, getting the spot to where to put it was hard. The pictures had to be arranged in the correct order by composition, theme, color, and size and everyone wanted a say and had an opinion that was better.
I was very fortunate to attend several of these one-man shows. These fancy gallery soirees were all in Manhattan, where I could mingle as the artist's apprentice with wealthy people who arrived by limousine. There were men in black suits and women extravagantly dressed and conspicuously displaying expensive jewelry and furs. Tuxedo-clad waiters served champagne in long stem fluted wine glasses. Frankly, I felt like a country hick that had entered another world much different from my sleepy rural community I was a custom.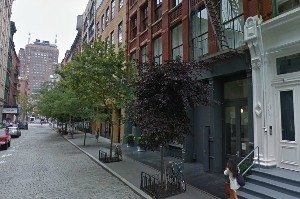 Josef, on the other hand, was a natural salesman in his element. He worked the crowd by switching back and forth between 7 languages, which included English, French, Italian, Spanish, German, Russian and Yiddish. He was always ready with a clever little joke that kept his audience laughing. He could charm the pants off anyone. I mean that literally as he convinced many women to pose in the nude for him! People bought his painting just to get a token reminder of his effervescent and flamboyant personality. The purchase of one of his paintings serves as a reminder of their meeting with Josef Foshko, one of his witty remarks and $5,000 to $10,000 well spent. I helped pad the paintings in cardboard, wrap it in brown paper and tied with string to be carried out by the buyer or sent by a delivery service.
I remember one particular conversation between Josef and a potential customer. She loved the painting but worried that the painting and frame didn't match the color pallet in her home. She was reluctant to make the purchase. Josef went to his car and brought back his paint box with tubes of oil colors. I found a piece of cardboard as he requested. He painted three different strips of colors on the cardboard and closed the sale by telling the lady, "Buy this painting I see you are very fond of it and hire a painter to paint the room in one of these colors and choose another for the woodwork and molding". She was very happy with her purchase and received a considerable amount of attention from the crowd and the artist.
Without effort, charisma flowed from Josef. He always wore a neutral tone sports jacket with baggy pants and a colorful tie or scarf. His partially trimmed mustache had gray and white hairs that extended over his upper lip. He wore a black beret cocked to one side to accentuate his presence as an artist. He talked with a European accent and discussed his paintings concerning classical art, literature, history, politics or the scene itself, such as a café in Paris, a New York City sidewalk or the countryside in the fall at Lake Carmel, New York.
Josef's appearance and his actions were all part of his extraordinary mystique complemented by his polite and diplomatic behavior. People were drawn to him and wanted to shake his hand and talk to him. For select customers, he would sign the back of the painting purchased with a particular note unique to the customer. This was a valuable bonus for them. I was amazed to hear prices up to fifty thousand dollars being discussed and checks written on the spot. Josef Foshko was a colorful and impressive person. He was cognizant that he was the brand and knew how to leverage it. Many years later, I came to recognize his pure natural ability as a marketing expert and salesman.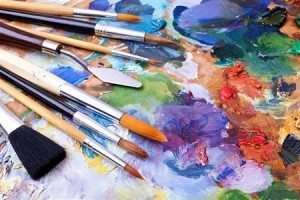 I walked to his studio after school for short visits and often spent the weekends and early summers working with him. His studio had a 30-foot high ceiling and was enclosed with large stain-glass windows. There was plenty of natural light in the studio which was so important when working with colors. Planted in the center of the studio were three large heavy wooden easels, each 8 feet tall that could comfortably hold a 5' by 10' painting. One wall held four shelves with dozens of vases filled with a variety of palette knives and brushes; almost all were older than me. In the background played the New York Times radio station of WQXR bellowing out classical music. Books were everywhere: in and on top of bookcases, stacked on shelves, tables and the floor. There was also the clutter of many works-in-progress, oil paintings. These were leaning three deep against the walls and bookcases, table legs and even on the sofa leaving no sitting room.
Josef's art studio was his domain. He started working at sunrise and spent most of the day there. You never moved anything! He would know it. It was the perfect place for me to learn to be an artist. However, Josef intended to teach me literature, history, the arts, music, and culture. I was seeking artistic expertise but learned so much more. My lessons included the principles of art such as form, light, proportions, color, composition, as well as, the study of nature (landscapes, the human body, still-lifes and human expressions). However, the study, analysis and in-depth discussions of the Renaissance Masters to Roman and Greek Art was commonplace and there was so much more included in my education of art or should I say the humanities. To Josef, art, the humanities and culture were inseparable.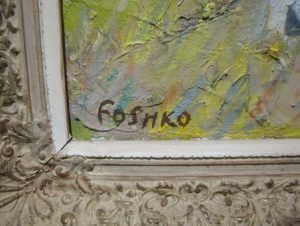 I remember one lesson about transferring a charcoal sketch to a large canvas. The techniques taught were the very same used by Michelangelo to transfer his drawings to the ceiling of the Sistine Chapel. Another lesson taught how to prepare a raw canvas by painting it with a white foundation which contained a mixture of different powders and chemicals from an old recipe written in Italian. According to Josef, this recipe was developed by Benvenuto Cellini in Italy in the 1500's. Josef always interjected some extraordinary fact that kept me interested and excited.
One essential technique that Josef always stressed was to examine your work from a distance, from every angle, to look at it from a different perspective and to take a moment to think and analyze it objectively. Then, evaluate it with your heart (emotionally) and mind (logically) using unbiased observation and the principles of good art. This approach was drilled into me constantly. I use these processes today with my website design and writing. It's a rote procedure that Josef executed himself, as he stood and thought and walked back and forth countless times from his "works-of-art" he was painting. The rest of the analysis includes breaking down the whole composition into pieces in your mind and improving each piece separately before reassembling and ensuring all parts function together while meeting the purpose of the work.
Josef lectured me countless times that art is about becoming. It's about approaching the ideal in your mind. Josef was well-read with Plato's philosophy and liked to discuss the concept of form and change. I would ask "becoming what?" He would respond with "becoming you". It's about your journey of discovery and experimentation over time to refine your work, to grow and develop your style and techniques to create the work that will satisfy you first and others secondly. It is always with the understanding that complete perfection is unattainable but approachable." It was very profound for a boy to understand fully.
When I think back now, I believe Josef's life was simply about pursuing these innate practices that he constantly preached to me about in enormous detail. Most of his life was spent in front of a canvas, deep in thought. He experienced euphoria standing with paintbrushes in one hand and a rag in the other to wipe the paint from the brushes, inspecting, thinking, questioning, walking back and forth to study and modify the work on the easel. His attention was unbroken for hours. He had an obsession with his art and continuously sought to be in the creative flow of a connection between his mind and the object of his work. He died at the age of 80 in New York. I am sure he worked to the very end with his passion for his art still active and surrounded by his work.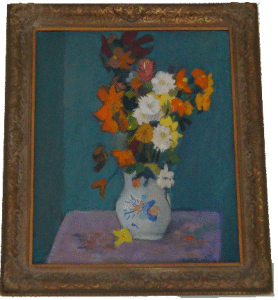 My memories of him are precious experiences. I remember working, learning and having philosophical rap sessions with him. He was smart, fun-loving and an excellent artist and chef. We had a lot of fun arguing about whether TV wrestling was fake or not. At end-of-day when the sunlight was fading, I would listen to his stories. They always carried me to another time and place which I continue to treasure today. Although I have forgotten much, but writing this article, I was able to relive some of those happy moments.
Josef allowed me to see art and life from his perspective as he would call himself a Bohemian with knowledge of the arts and culture and as an iconoclast. Eventually, I understood the real meaning of being a Renaissance Man. I always envisioned Josef as the perfect example of a Renaissance Man of the 1500's brought to life in the 1960's. He helped me to grow mentally with the exposure of new and foreign ideas and classical thought that was not typical for a teenager in a backward town where I lived at that time. He placed me on a path of knowledge and to question even the obvious.
Josef was responsible for my artistic eye and the way I look at life. I use this technique today and not just for design, but to assess things, in general, to make every situation better. I can still hear him in the back of my mind saying "There is something wrong in this area (while pointing to a specific spot on the canvas); you'll find solutions to make it work. This is not a race – it's art. It will come to you, don't force it, be patient – let it become." When he said, "let it become", I wasn't sure if he was referring to the painting, me or both. But, I know his answer had I asked, it would have been a simple "YES " .