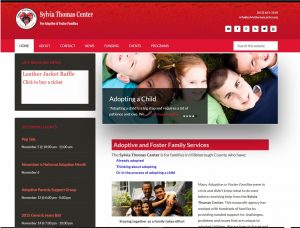 Complete Website Redesign for a New Face
Sylvia Thomas Center has a new Internet face. This new face is a complete redesign with refreshed content and new features.
The new website is build on the newest Open Source technology of WordPress and the most popular Content Management System, CMS, available on the worldwide web today. It's recognized as the defacto CMS standard of the Internet with over 74 millions websites built with WordPress. This CMS allows the Sylvia Thomas Center staff to manage their own website and publish content by themselves. This advantage can drastically reduce the total-cost-of-ownership of the website by doing everything in-house. Thus, saving them money and ability to timely publish new information.
The new website uses the same web address since 2001, sylviathomascenter.org. It has been redesigned to allows visitors to communicate and gain information  using a smartphone or tablet. This means it's extremely easy to find the date and times of Support Groups and get directions, while on the road. In addition, the new site includes news, blog articles and the option to leave  comments.
The website content has been revamp to explain what the Sylvia Thomas Center does in Hillsborough County and its major Programs. The key website improvement are:
Event Calendar
News
Blog
Fundraisers
Donations
Please visit the Sylvia Thomas Center Website to learn more.